Hello. My name is David Madrid. Thank you for stopping by.
I am a writer. A storyteller. A creator. This is my website. I share my stories with you.
Enjoy these stories. They are written to entertain you. My fables are written to teach lessons. I share my thoughts with you on my blog.
These days, positive stories and positive thoughts are needed more than ever. I hope I can offer you that.
These stories are for you and your family to enjoy. Not only have I devoted much time and energy to these stories, but so have the artists who have illustrated the stories.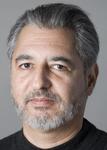 Email me at David Madrid