The Christmas season, also known as the Holidays, is upon us.
Merry Christmas and Happy Holidays.
Some of my favorite memories are anticipating Christmas morning to see what Santa brought.
One Christmas Eve, when I was about 5, I tried to stay awake.
I wanted to see Santa, so I listened for the sound of reindeer on the roof, but the next thing I knew I woke up.
It was early Christmas morning, about 4 a.m.
My room glowed.
I looked out my window, and everything was white.
Big silent snowflakes fell.
The light was like a full moon's, but different.
The ground was the light.
It was my only white Christmas and the first time I remember seeing snow.
I ran to the Christmas tree.
There, waiting for me, was a red bicycle.
It was the most beautiful thing I had seen, and riding it in the snow was a pleasure I will never forget.
Throughout my childhood years, I received gifts from the jolly old elf, but no Christmas topped the snowy night of the red bike.
Unsung Heroes
We assume Santa will always come, but we don't consider the effort of those who toil in the North Pole to make children everywhere happy.
Santa Claus, of course, gets most the credit, but there are reindeer, elves, and at times, other creatures of the North Pole, who pitch in to make Christmas successful.
And who looks after everybody?
Why Mrs. Claus, that's who.
She is an unsung hero, but she doesn't mind, because Mrs. Claus is a humble and loving spirit who shuns attention from the outside world.
Her first name is in dispute; it is either Jessica, Gertrude, Margaret or Carol, depending on who you believe.
Mrs. Claus herself will tell you her name is Mary Christmas.
What a sense of humor.
While her dear husband St. Nick pulls off magic one December night, year after year, Mrs Claus plans all year, and then coordinates Santa's long Christmas ride.
There are other unsung heroes that you never hear about.
Which brings me to my story: Rufus the Snot-Nosed Reindeer.
I wrote this Christmas story in 2009.
I wrote it for you.
In 2010, I wrote a follow-up story: Rufus the Snot-Nosed Reindeer: The Reckoning.
These stories show how Christmas can be a challenge for those who work behind the scenes to deliver an annual miracle.
Enjoy the stories.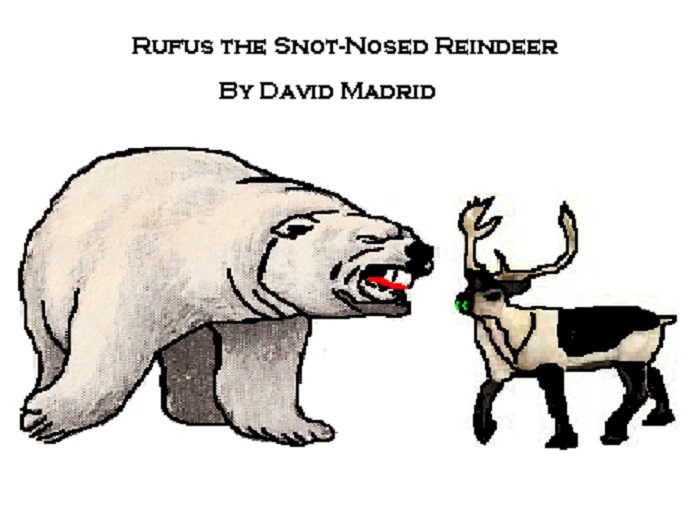 Contact: David Madrid