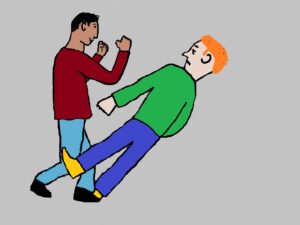 One punch, two punches, three, four, five,
Seamus McGurty was down before he could take a dive.
He didn't intend to fight the toughest kid in school,
But sometimes you make a mistake; you play the fool.
Excited elementary school kids cheered and screamed;
They really wanted to see Seamus get hurt it seemed.
Seamus,  second toughest kid in school, didn't land a punch.
Nano, toughest kid in school, ate his lunch.
It began with an idiotic boast in the lunchroom line.
Next thing he knew it was meet-the-lefty-in-the-alley time.
Seamus' appetite was gone; his anxiety spiked;
He had one chance; he had to make it to his bike.
When the last bell rang, Seamus raced outside,
Where a crowd of happy children thwarted his ride.
They marched him to the alley behind my home.
The crowd parted for Nano as if he were the emperor of Rome.
Nano didn't pick the fight; but he was ready to rumble;
The toughest kid in school was always ready for trouble.
It's funny, Nano was somewhat humble, he just could not resist a good scuffle.
He had a title to defend, he hoped for a vigorous tussle.
But he knew Seamus McGurty misspoke, so Nano ended the fight in a flash.
No need to humiliate his foe; who bravely stepped above his class.
Nano, pure warrior, welcomed an honorable scrap;
No matter the skill of his opponent, he would always adapt.
After his title fight we talked and shared cookies in my backyard;
That's how I met Nano, that short, fierce warrior who hit so hard.
After the fight he looked around and saw someone different: me,
Sitting on the trash can eating a fresh-baked cookie.
Nano came over, and I shared my chocolate chips.
We developed a bond as we talked, a surprisingly strong friendship.
One cold day, a friend and I, were confronted by boys from Eddy School.
There were shoves, punches; they ran; we chased them with snowballs and ridicule.
Next day they told Nano there was a boy from Catholic school,
Who claimed to have whipped him and called him a chicken's stool.
As I walked home from school that day, somewhere between Mesa and Ash,
I saw a crowd of kids approach; they talked and yelled trash.
Nano led the Eddy School mob that yelled for my demise.
The lying boys pointed me out, satisfied in the plot they devised.
The crowd circled us as a fierce-looking Nano stepped up.
He shook my hand, turned to my accusers, and called them chumps.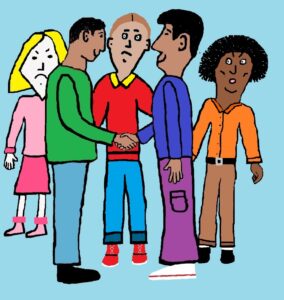 Nano rebuked the mob and announced me his friend.
The mob would not be deterred; they yelled "Beat up the liars instead."
It was too late, because the boys had run away.
Nano would remember them the next day.
I could tell you more stories about the battles of Nano,
About his legendary fights, mano a mano.
He fought cowboys big as bulls, who thought him an easy win.
He defeated mean Mexicans, much to their chagrin.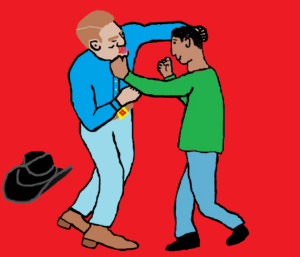 Yes, Nano loved to fight; he was good at it and won all the time.
His speed was blinding, his rhythm impeccable, his style sublime.
I never heard of Nano fighting anyone unwilling to brawl.
The contest, the bout, the combat, that was the thrill for the crafty southpaw.
There were always challengers; someone is always looking to compete.
If you knew Nano, you would think him the nicest guy you ever did meet.
But challenge him? Nano took all comers, one fight at a time,
Winning, winning, winning, always with a smile.
The End
© 2021 FabulousFables.com
Contact: David Madrid
Nano was a friend of mine. He was a cool dude, in the vernacular of the day. He was a fighter. A pure warrior. This story is a tribute to a friend.