Thanksgiving.
A time of gratitude and counting our blessings.
A time when November breezes anticipate December freezes.
A time when families and loved ones come together and share a meal.
A time of green bean casserole and pumpkin pie.

A time of turkey slaughter on a massive scale.
Don't get me wrong; I'm not complaining. I am as guilty of enjoying Thanksgiving turkey as the next guy.
But for one tiny hummingbird, Thanksgiving was a time of terror.
Gilbert, the hummingbird,  heard that humans eat birds on this holiday.
He feared he could become a meal, a morsel for sure, but a meal nonetheless, for a boy who showed too much interest in Gilbert's movements.
You've probably figured out that Gilbert the Dancing Hummingbird is not your typical Thanksgiving story.
As with many stories on FabulousFables.com, this story sprouted from a kernel of truth: a little boy's love for a green-headed hummingbird.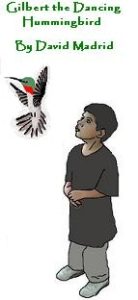 David Madrid
Contact: David Madrid
© 2019 FabulousFables.com