Rufus was a snot-nosed reindeer, but don't let that gross you out.
Because within his veins ran the blood of reindeer royalty.
Yep. Somewhere along the reindeer evolution timeline, a strain of reindeer blood exerted itself and produced some remarkable offspring, reindeer who would do incredible things in their lives.
Two of these reindeer princes were cousins, but as different from one another as a frog and a flea.
Both came to their greatness through humble beginnings.
One was bullied and taunted and not allowed to join in reindeer games.
The other had no need for reindeer games. He was a warrior with one goal in life: to wrestle.
You will be surprised to learn that both cousins saved Christmas.
One is famous for lighting Santa's way.
The other is not famous except in the North Pole, where he is as legendary as his famous cousin.
So I'll tell you the story of the not-so-famous reindeer.
He was called Rufus the snot-nosed reindeer, but he didn't care.
Rufus was not a reindeer to worry about drama, idiocy or nicknames.
He was a reindeer who cared for only one thing: the thrill of of a competitive grapple.
Read his story: Rufus the Snot-Nosed Reindeer.
David Madrid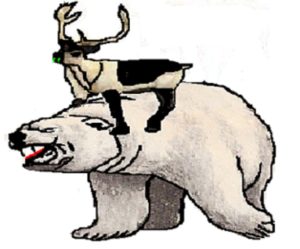 Contact: David Madrid
© 2020 FabulousFables.com