Consider the goat sucker, better known as el chupacabra.
What is this creature? Is it real? If so, why has nobody produced evidence? Where is a body? Where are the bones of the dead goat suckers?

Yet, there have been numerous sightings. The creature has been spotted in Puerto Rico, Mexico, South America, the Southwestern United States, and now, reports trickle in from around the world.

Some eye witnesses say the chupacabra has large oval blood-red eyes. Alien eyes. Which raises the question, is the chupacabra extraterrestrial?
Out on the streets, the word is that the loathsome little creature was born in a government lab somewhere inside Area 51, that fortress of extraterrestrial legend.
The origin of the goat sucker is a mystery my friends. But there is something about this creature that is not of this world, it with its sharp fangs, serpent's forked tongue, greenish-gray hue, leathery hide and spikes on its back. Just weird.
Well, I'm here to tell you that the chupacabra exists.
How do I know? I am an eye witness. I am going to tell you my story of that chilling encounter. Since that night, which coincidentally, was Halloween, I have learned much about el chupacabra.

Some night you may come across a chupacabra. You will be frightened, and rightly so. The chupacabra is hideous to behold.
But the animal, if indeed it is an animal, probably will flee, because it is an elusive creature. It is a loner. Traditional chupacabras hide. They generally avoid people and even other chupacabras.
But what if, like people, chupacabras have complex personalities? Maybe their alien brains are more complex than ours, but we can't recognize that because of our limited and puny human intelligence?
What if there was a chupacabra larger and stronger than all the others? What if that creature was a beast with a malevolent personality and a hankering for not just goat blood, but human child blood and flesh as well?
Well my friends, that would be one dangerous creature. A fierce and formidable fiend.

So I'm going to tell you my story of my encounter with this bloody creature, a most evil entity who wasn't content to just suck goat blood, but rather, he enjoyed ripping his victims apart.
Read my story "El Chupacabra" here.
David Madrid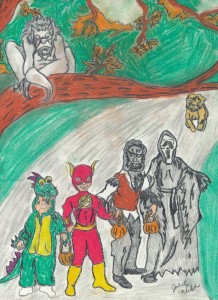 Contact: David Madrid