Who was Aesop?
It depends which story you believe, but one version is that he was a deformed, stuttering Greek slave in the 6th century B.C. who was granted the gift of crafting fables by the goddess Isis.
The magic of Isis transformed Aesop into the legendary fabulist whose stories live on because of their timeless lessons.
Aesop's fables have been told and retold throughout history. You can find different versions of the same story among different cultures.
In the end, according to one version, Aesop was thrown off a cliff by the people of Delphi, who then suffered pestilence and famine. Whether true or not, I like to imagine that Isis used her powers to curse those who dared kill the legendary storyteller.
David Madrid, president of FabulousFables.com, is a storyteller who also writes fables. While impossible to compete with Aesop, the greatest fabulist of all time, this website offers fables that we hope teach lessons that both children and adults will recognize and consider.
FabulousFables.com will occasionally offer you its version of Aesop's fables.
We love the fable, and we thank Aesop for showing us the way.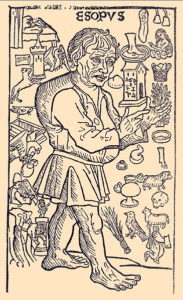 A woodcut from La vida del Ysopet con sus fabulas historiadas (Spain, 1489) depicting a hunchbacked Aesop surrounded by events from the stories in Planudes' version of his life.
Woodcut image from Wikipedia
David Madrid
Contact: David Madrid