The Peninsula of Toys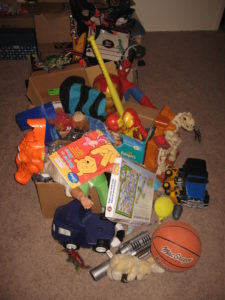 The peninsula of toys
Moves piece by piece
Down the hall.
A four-armed alien wrestler
Is joined by Spider Man and triceratops.
They reach out from the wall
Growing as the peninsula of toys.
The playthings of
Four little boys.
Toys cluster and grow
They move about.
A basketball bounces
A semi loses its trailer
T. rex skeleton chews a black clip-on tie
Yellow baseball bat wishes for a ball
In the end, they join
They grow
They move about
They creep out from the wall
They form the peninsula of toys
Made of the things of little boys.
David Madrid
Contact: David Madrid