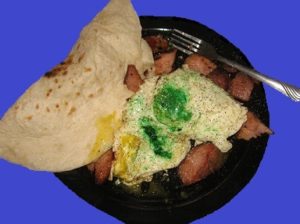 Green Eggs and Ham and Tortilla Too

I tried to impress the little guys
By making hippo porridge with some wormy fries.
They weren't impressed, they told me so;
Therefore I cooked some pigeon toes.
"Nope," they said. "They look so bland."
So I cooked them aardvark pasta mixed with sand.
They turned their noses at the thought of that.
So I offered some amoeba cheesecake soaked in fat.
"No. No. No." They insisted to me;
"You don't understand what it is that we need."
So I whipped up a batch of green eggs and ham;
I added a burnt tortilla and held the spam.
"How about this?" I asked, my spirits high.
I got a look that would chill Capt. Bligh.
"You're going to eat that?" asked the oldest one.
"Yes," I said. "It should be quite fun."
So I ate green eggs and ham and a tortilla too,
"Yuck!" said the boys, finally impressed at the things I can do.
By David Madrid with apologies
To Dr. Seuss
Contact: David Madrid