For my first story of 2021, I present Nano: The Pure Warrior.
It is a story about a street fighter.
This story is part of my local history in the 1960s and '70s.
I did not write this story to glorify violence; I often post stories and blog about the days of my youth.

I write to entertain, but also to document how things were when I was growing up.
It is important to know history, and I want young people to understand how we, the Baby Boomers, were shaped.
My generation spent a lot of time outside, and while outside, you met a lot of people, and you were in the grapevine; you heard the gossip.
So you knew some kids purely by reputation.
By far the most compelling reputations were those of the street fighters.
Kids were interested in who fought who, and who beat who.
The toughest fighters reached local-legend status.
These guys liked to fight, and they were good at it, and when the toughest guys met in combat, the grapevine buzzed.
This story is about one of those legends: Nano: The Pure Warrior.
Some fighters were mean and liked to inflict pain; those were the bullies you avoided.
Some were cocky and walked around with chips on their shoulders.
They wanted to fight, unless someone tougher came along, then the chips were tucked away.
The dangerous fighters were the regular guys.
Nice guys who got along just fine not fighting, until the fight came to them, and then suddenly they were honey badgers on the attack.
Nano was one of those legends who welcomed a competitive rumble.
There were plenty opponents; a fighter's reputation was enough to elicit challenges from testosterone-soaked toughs.
Nano was my friend.
Read Nano: The Pure Warrior, a poem dedicated to my friend.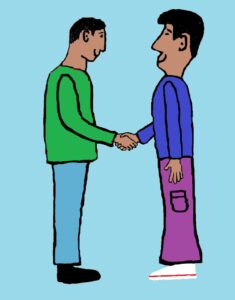 The End
By David Madrid
Contact: David Madrid
© 2021 FabulousFables.com